Get 'Work From Home' Inspired
NEED AN UPDATE TO YOUR WFH SPACE??
Support Local with our Preferred Partners

What is the future of work? Is the office dead? How can working from home work better? What's the next normal?
Our preferred partners at Contemporary Office Interiors have got the answers for you, no matter what your home office needs. Click on the image below to link to their website and check out the fantastic inspirations they offer.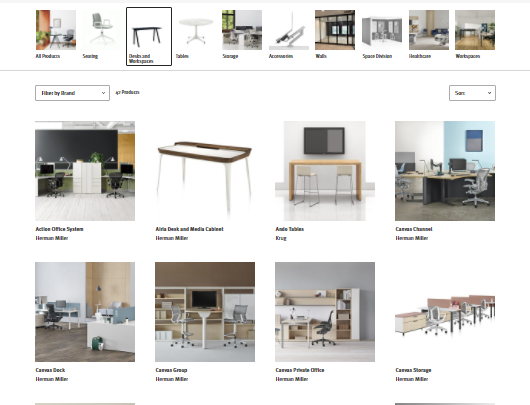 Reese Witherspoon, Zoe Saldana, and More Stars Serve Work From Home Inspo
Article courtesy: architecturaldigest.com (By Joyce Chen)
As the nation continues to wait with bated breath for life to return to some semblance of pre-2020 normal, many folks are stuck working from home for the foreseeable future. But if there's anything that the past year has taught us all, it's innovation. Just ask Chrissy Teigen, Reese Witherspoon, and Karlie Kloss, who updated their workspaces by changing small details. Or the ever glamorous Victoria Beckham, who recently showed fans how to dress up their home offices while keeping their workwear even more casual than ever before.
Here, AD rounds up eight home offices recently shared on Instagram by the stars in hopes that they can lend some inspiration toward a more intentional, joyful 2021 work-from-home experience.
It should come as no surprise that Reese Witherspoon's home office is just as full of personality and pep as she is. The actress and producer purchased a $15.9 million estate in Brentwood last March, which is most likely where she has been spending much of her pandemic, given that she sold her longtime Pacific Palisades home one month later. In a post she shared in November, Witherspoon showed off an easy cheat to decluttering the office: an elegant tiered bookshelf with designated space for her book club reads, photo frames, colored pencils, and knickknacks—making room on her desk for a simple orchid and an oversize notepad.
Zoe Saldana has always been intentional about her space. As she told Architectural Digest in 2019, she and her husband, Marco Perego, have curated their home to be "beautiful," "super artistic," and "child-safe." In the fall, Saldana shared several Instagram posts from a workspace within her home, proving that it is possible to convert even small areas into both practical and aesthetically pleasing nooks. In the images, Saldana shows off a dark wooden desk facing a window, with dreamy, patterned cream-colored drapes adding a soft glow to the room. As evidenced by the notebooks strewn across the desktop, natural light makes for a pretty perfect way to get through the workday.
Even though Chrissy Teigen and John Legend are currently between homes—they're leasing a brand-new Beverly Hills mansion as they await the completed renovations on their new West Hollywood residence—the enterprising couple is, as always, living life to the fullest. Teigen in particular has been sharing snaps from her temporary home office, which reflects her love for all things "romantic and feminine," as she told Architectural Digest recently. Among the objects that have undoubtedly helped ease her work-from-home woes is a soft, fur-covered sofa positioned squarely in the middle of the room. Teigen also regularly keeps flowers in her office, which help to brighten up the space.
Karlie Kloss and her husband, Joshua Kushner, are bracing for some major life changes—welcoming their first child together, for one. And in anticipation of that, they are currently setting up their new Miami Beach home. The power couple moved to Miami from New York City in the fall, after purchasing a $23.5 million property overlooking Biscayne Bay that boasts, among other things, a sizable home office. Kloss has shared numerous photos from within the stylish space, showing off its textured, gray walls and floor-to-ceiling built-ins. Of note is how broad her office desk is, and how clear of clutter it is, making room for spreading out projects or having a cheeky photo shoot.
There is, unsurprisingly, nothing dowdy about Victoria Beckham's home office. The fashionista and entrepreneur has been relishing her time at home with family over the past year, keeping busy with the production of her womenswear line from their Cotswold home. Beckham shared a selfie from her home office in December, revealing two stylish midcentury-modern-style chairs facing a robust wooden desk, an apt backdrop for her black-and-white-striped pajama set. Earlier in the year, Beckham shared a photo of herself perched on a counter in their pantry, jokingly calling the food-filled space her "office."
Though Cindy Crawford and Rande Gerber recently snapped up a stunning Miami home, they've been spending much of the pandemic at their longtime Malibu residence, which was originally listed last spring (a buyer at the time changed their mind as COVID-19 began to sweep the States). In March, Crawford joked about the very real, unglamorous side to working from home, sharing two images: one of herself with blush pink pumps kicking back at a large wooden desk, and the other of a more frazzled Crawford with a messy desk and a box of tissues where the bright pink roses were in her imagined workspace. In November, the supermodel shared another image of herself from her home office, with little more than a hint of greenery to clutter up the space.
Clean and simple is the name of the game for Jessica Alba when it comes to her aesthetic, and her office is no exception. The Honest Company founder shared an inside look at her home office last spring as stay-at-home orders began to be issued throughout the country, showing off two elegant wicker side tables that provide ample room for a vase of flowers, several books and magazines, and, importantly, a smudge stick. Also equally eye-catching is a white fur chair in the corner; in December, Alba revealed her penchant for cozy armchairs during her chat with former President Barack Obama. A crescent moon-shaped mirror behind the chair helps to add light to the room.
A big part of working from home for mothers has been having to balance time with family with busy back-to-back meeting schedules. One way that Kerry Washington has managed to fuse the two and take advantage of her work-from-home situation has been to create what she's dubbed the MOMA (museum of mom art): a bulletin board that she's filled with artwork and drawings by her children. The sweet board has appeared in a large number of Washington's posts, and has even served as a backdrop for a number of the actress's Zoom interviews and chats.
Here's how OUR team Works From Home! We love our views, we're parents, we're on the go but we get it done every day! Check out our WFH pictures.
Ale - Working from the playground with her daughter is a must!
Brandon - He loves the view of his favourite four-legged best friend from his home office.
Brandy - She likes the open concept with a view.
Jen - She's always on the go with her mobile office.
Jerri - As our office manager, she escapes her busy household into her private office with a great view!
Ken - He, too, needs to escape the hustle and bustle of his home with a quiet office away from it all



Selling Your Home?
Get your home's value - our custom reports include accurate and up to date information.
Get Home Value