15 Easy DIYs for Instant Autumn Curb Appeal
As the days grow shorter and the first chill of fall fills the air, you may feel inspired to update your home's curb appeal. With a little help from talented bloggers, we've assembled 15 timeless tricks that you can use to create your own colorful outdoor autumn displays. No fancy tools or skills are necessary, and the projects are inexpensive to boot! What are you waiting for? Read on and get inspired!
DIY Wheelbarrow
Create an autumn harvest tableau by building your own wheelbarrow, then painting it barn red or staining it a soft weathered gray. The talented crafter behind this rustic display assembled the wheelbarrow using a crate, square railing balusters (for the handles and legs), and a dowel for the wheel, and put the pieces together using screws and wood glue. Add potted mums, straw bales, and pumpkins, and you'll have the most colorful display in the neighborhood.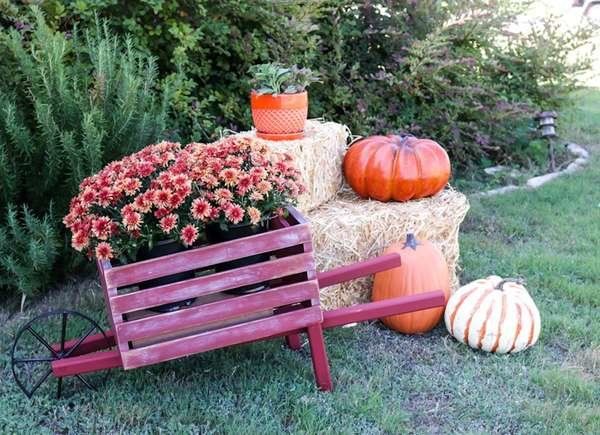 Cowboy Boots Planter
Howdy, pardner! Leave your boots on the stoop and come on in for a warm mug of cider! A pair of well-worn cowboy boots, overflowing with dried blooms and native grasses, gives this whimsical porch display a warm, western feel. A monogrammed ceramic pumpkin and a tall planter brimming with marigolds round out the look.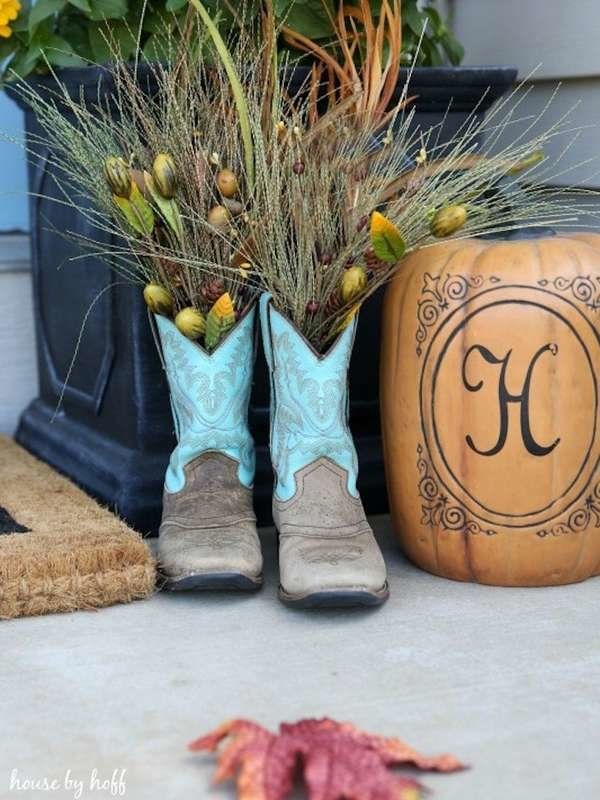 Ribbon-Wrapped Pumpkins
Nothing proclaims autumn quite like pumpkins, dried gourds, winter squash, and bushels of fall-blooming flowers! This inexpensive and easy-to-assemble display gets a design boost from the pretty ribbons tied around the pumpkins, which give the entire scene a festive flair. Use a wood crate as a shadow box for a pumpkin, and add a straw bale or two for a look that's pure country comfort. You can almost smell the pumpkin pie in the oven!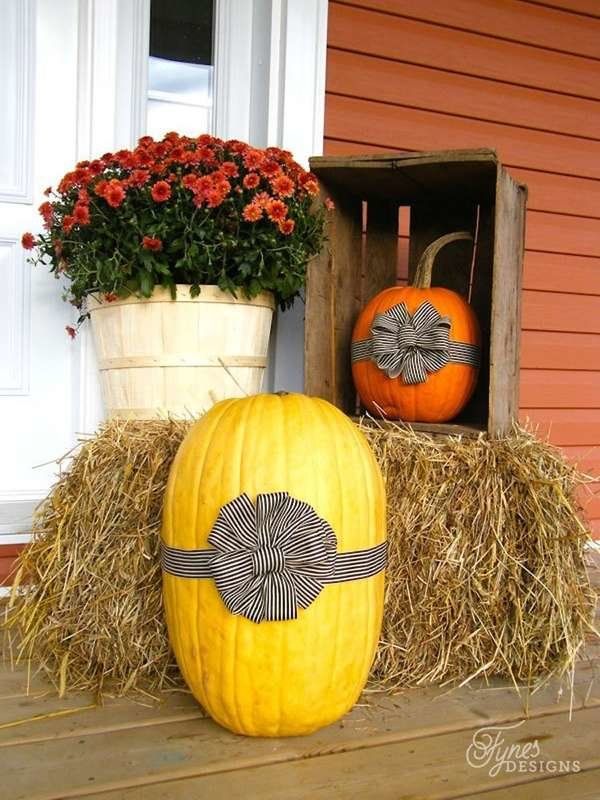 Hydrangea Wreath
Petal-perfect faux hydrangeas, fastened to a grapevine wreath and hung by a ribbon, bring a touch of heartwarming hospitality to your front door. This super-simple wreath was made by twisting the stems of the faux hydrangeas through the woven openings in the grapevine wreath. This design uses brown, amber, and creamy white flowers, but feel free to incorporate subtle rusts or harvest golds if you prefer.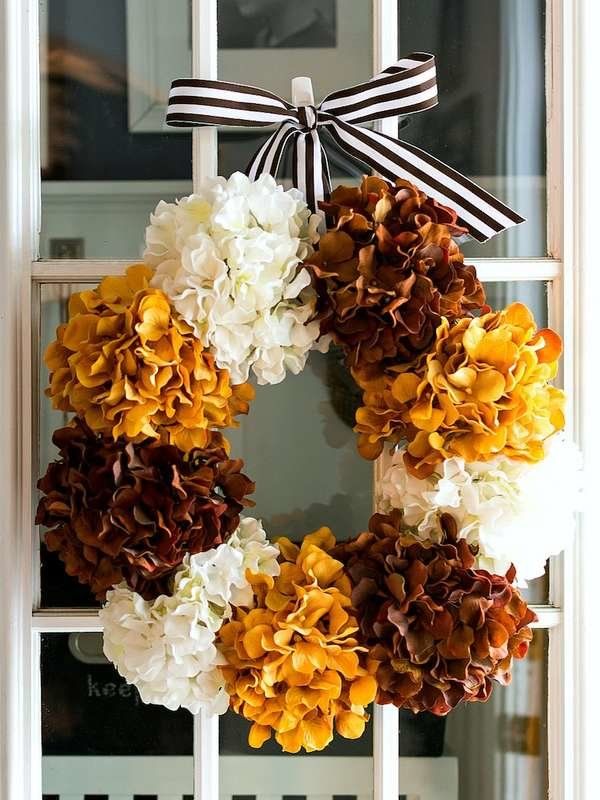 Herringbone Doormat
A sensational herringbone doormat in fall tones with a splash of aqua takes center stage in this porch display, but as hard as you might look, you will never find a mat just like it! That's because the artistic homeowner who staged this autumn scene painted the vibrant herringbone design on an inexpensive natural doormat, using painter's tape to create the pattern. With pumpkins and rain boots set atop the mat, and the brick backdrop behind, this display strikes a happy note.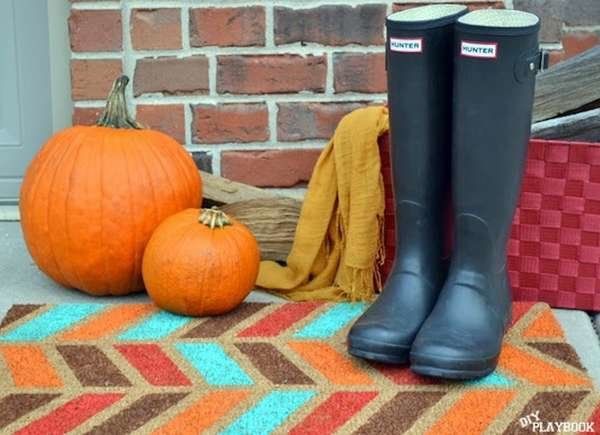 Fall Sign
Announce fall's arrival with a rustic-looking DIY sign created from cedar fence planks. The sign back and the letters were all cut from just two fence planks, and the letters were face-nailed in place to enhance the rustic feel. The creative crafter used a jigsaw to cut out the maple leaf that replaces the letter "A" in the word "Fall," and then paired the sign with a rusty milk can for even more autumn appeal.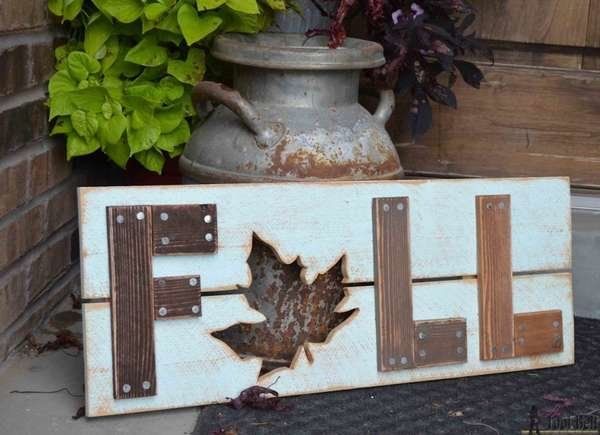 Fall Doormat
Injecting a little autumn style into your entry doesn't have to take a lot of money or time. With the addition of a couple of small pumpkins, this pretty painted doormat conveys the seasonal message quite nicely. Choose an inexpensive doormat made of natural fiber, such as coco brush or woven grass, and write your own message with acrylic paint. It's a good idea to practice your writing on a large sheet of cardboard to get the spacing right before painting on the doormat itself.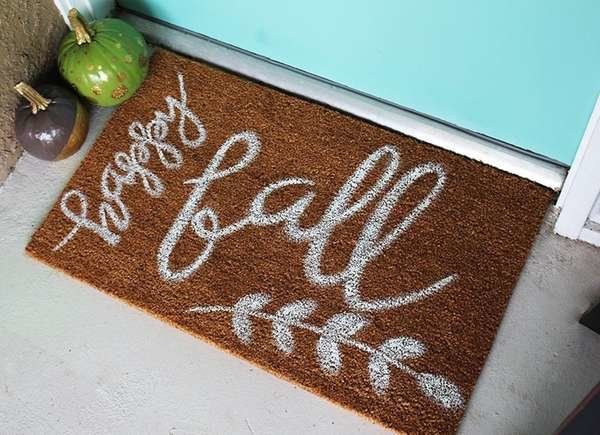 Easy Fall Door Hanging
This combination of perennial fall favorites—dried Indian corn and sunflowers—provides the ultimate in bright seasonal splendor. Shop farmers' markets and grocery stores for Indian corn, and check your local hobby shop for faux flowers in bold fall colors. In this arrangement, the corn cobs were placed on top of the wire stems of the flowers, and then everything was tied together with floral wire. The dried husks of the corn hide the wire stems, and a flourish of ribbon or raffia covers the floral wire.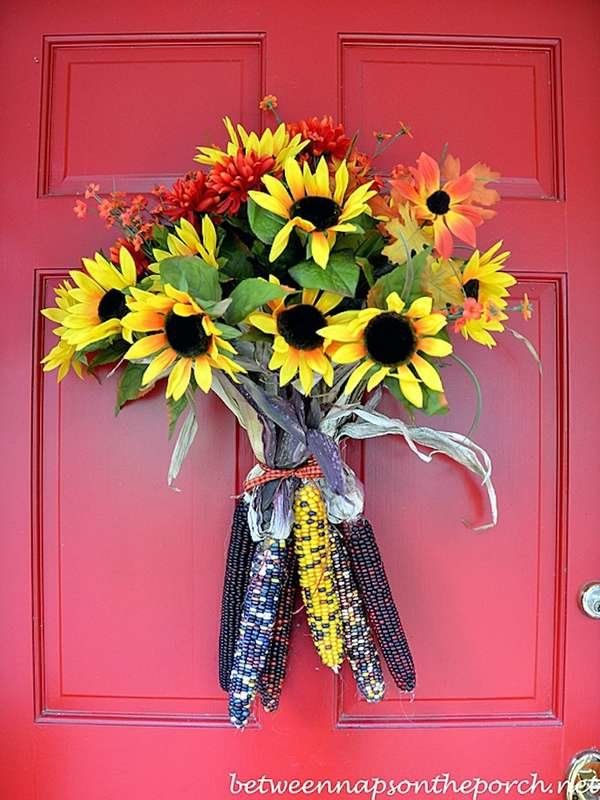 DIY Olive Bucket Pumpkin Planters
Bring the colorful warmth of fall's pumpkin harvest to your front door! A sturdy grapevine wreath placed in the top of an olive bucket sturdily supports a large pumpkin wrapped with an earth-toned garland. In this smart assemblage, the pumpkin appears to be sitting in its patch, nestled among natural foliage. No olive bucket handy? No problem! Any rustic bucket or bushel can anchor this simple but striking arrangement.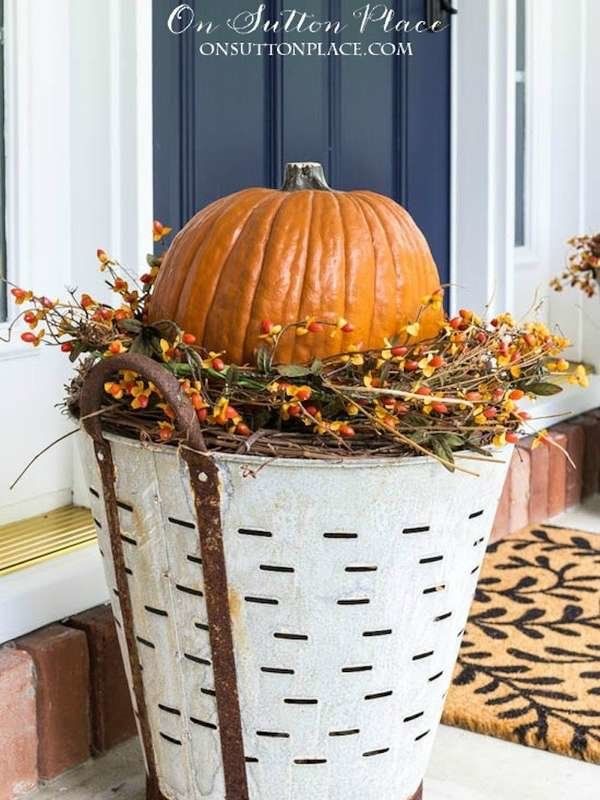 Fall Lanterns
Bright fall colors and metal lanterns make this autumn display as inviting by night as it is by day. Battery-operated LED "candles," which are safer than real candles and won't go out in a breeze, offer welcome illumination for after-dusk guests. Faux fall foliage, a scattering of pinecones, and a collection of small pumpkins and mums complete this artful combination that brings autumn color and a friendly greeting to any entry.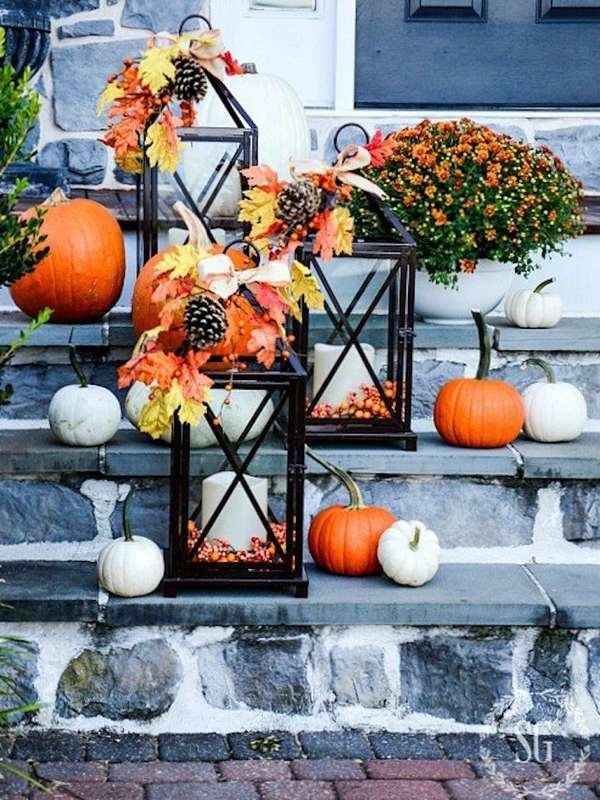 House Numbers Pumpkin Topiary
Lightweight faux pumpkins are the building blocks of this harvest topiary that does double duty on the doorstep, celebrating the season while displaying the home's street numbers. The pumpkins are threaded over a dowel for support and secured in place with hot glue, which is also used to attach the plastic house numbers. Set the pumpkin topiary in a wood planter, or even a crate, and surround it with bright potted blooms.
Autumn Floral Wreath
Add a burst of bold fall color to your front door with a beautiful floral wreath that couldn't be simpler to make! Just wrap a foam wreath form with a deep red, orange, or brown ribbon, and then attach faux flowers with a hot-glue gun. Use additional ribbon to hang your wreath from a nail, wreath hanger, or stick-on hook. Be sure to choose flowers in traditional autumn foliage colors—think rich reds, rusts, and burnished gold tones—to give your entry a seasonal boost.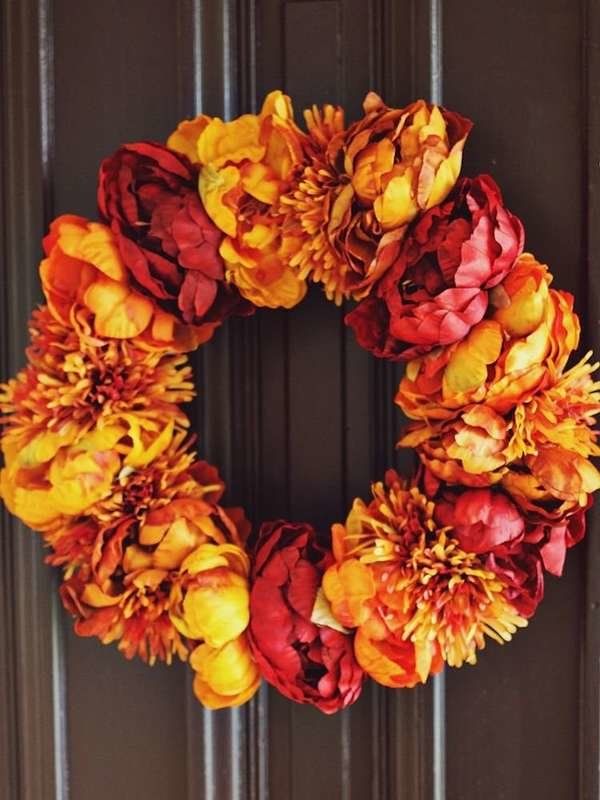 Electrical Lantern
Creating the perfect ambiance for an evening meal on the patio? Take advantage of your outdoor GFCI electrical outlet (and a few materials, power tools, and this tutorial) and plug in this DIY lantern to light up the night sky. Easy to make with a standard lamp kit, this lantern is not meant for extensive outdoor use, rain, or other foul weather, but it will brighten your outdoor seating area for a special occasion. When you're finished basking in its cheer, unplug your homemade lantern and store it inside to extend the life of the wooden materials and electrical cord.
*blog content created and shared by Bob Vila